Since the beginning of time mankind has celebrated the winter solstice, bringing warmth and joy to the community to get through the long, dark, winter nights. This is the meaning of Chag Haurim, Hanukkah, the festival of lights. During this season we remember the Maccabees: heroes that fought for freedom, human dignity and the right of minorities for self-determination.
When this time comes, each generation of Jews must ask itself: How do we lead by example? What is the cause that will transform concrete social realities? I found answers to these questions in our latest mission to The Bahamas.
The Abaco Island in The Bahamas was a heavenly place with a population of 17,000 people and beautiful wooden houses next to a clear blue sea. All of this changed when Hurricane Dorian with its 300 km-per-hour winds landed on the island.
The category 5 storm, one of the strongest ever registered in the area, was a destructive force that would simply not go away. When it continued its course, it left behind vulnerable populations (Haitians, Dominicans and other illegal immigrants, as well as the elderly) with no resources to survive. Four CADENA volunteers arrived at the Treasure Key airport a few days after.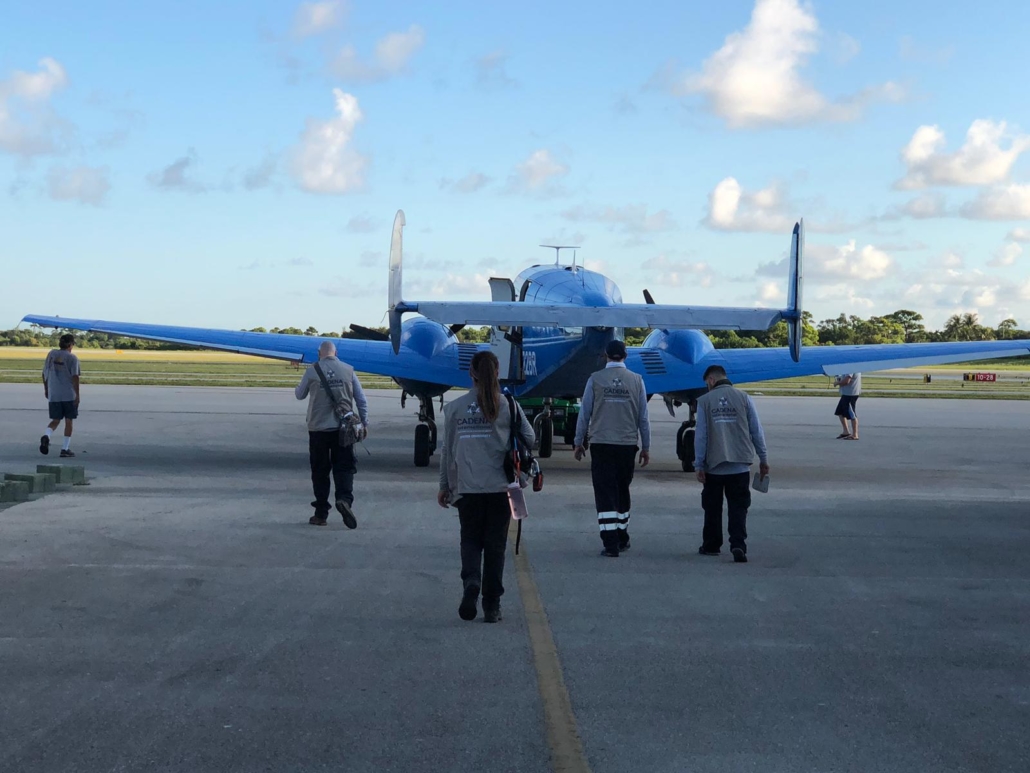 The whole island appeared as if bomb had just exploted. All the buildings (except a hospital, a government office, and a church that doubled up as a shelter) had been completely annihilated. In order to move around we had to use a car that we found on the street, we filled the tank gas with gasoline provided by sister NGOs.
Our goal was simple: to provide psychosocial and medical consultations and donate 418 solar-powered lamps.
These last items where, without a doubt, the most important part of our work. As of today, many parts of the island are still without power. These lamps have a USB port that allows people to plug in their cellphones. Those stranded in the island had no way to communicate with their loved ones back in their places of origin. The solar lamps allowed them to tell them that they're alive.
A second group of volunteers left the port of Veracruz with the Mexican Marines a few weeks after in order to deliver 60 tons of aid. We are currently working with the Israeli ambassador to see if we can bring to the island an Israeli technology to clean the beach-front and bring potable water to the population.
By tackling this together, through grit and determination, fighting inequality and providing better conditions for those in need, where we not celebrating Chanukah? This is how we deepen our commitment to our tradition. Not only through rituals but through direct, social, action.
It is this light that guides us. This action of brotherhood towards the stranger has become, for us in CADENA, the most valuable part of our work.
Chag Sameaj.
Benjamin Laniado, General-Secretary CADENA.
https://cadena.ngo/wp-content/uploads/2019/12/IMG-20190912-WA0011-1-1-1.jpg
529
1272
Abigail
https://static.cadena.ngo/images/logo-cadena.png
Abigail
2019-12-21 12:43:43
2019-12-21 12:55:14
In the darkness of the Bahamas, a lesson for Hanukkah