Así fue: tercera misión a las Bahamas.

El huracán Dorian, de categoría 5, destruyó las Bahamas. Como siempre, los más afectados fueron la población más vulnerable: haitianos, dominicanos y demás inmigrantes ilegales sin papeles para viajar; ancianos y ancianas de la tercera edad sin las fuerzas para comenzar su vida de nuevo en otro lugar.
En la primera misión de avanzada, CADENA entregó 418 lámparas solares y realizó ayuda psico-social. Benjamin Laniado, Secretario General de CADENA, comenta: "Parecía como si hubiera estallado una bomba. Todas las construcciones (excepto el hospital, el edificio de gobierno y una que otra iglesia, que servían como centros de acomodamientos) estaban aniquiladas. "
Inmediatamente después de dicho reconocimiento una segunda misión partió del puerto de Veracruz junto con la armada de México para entregar 60 toneladas de ayuda.
Pero el regreso a la normalidad será largo: por eso, al igual que como se hizo con los afectados por el sismo del 2017, CADENA se dio a la tarea de entregar refugios útiles para el mediano plazo.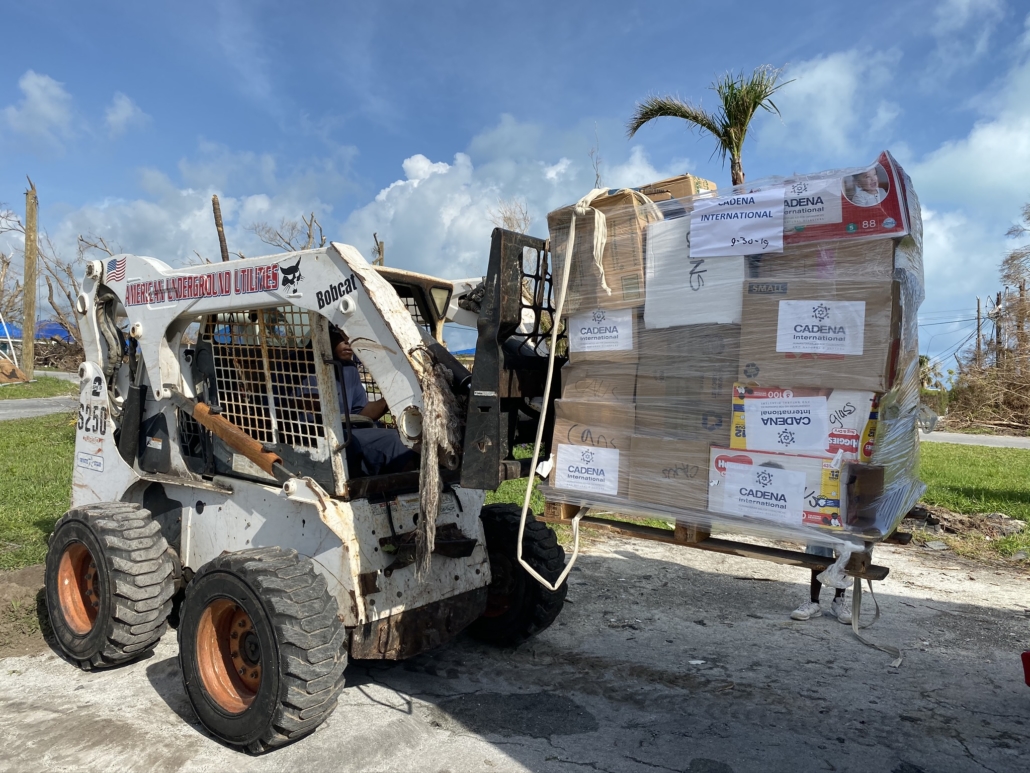 "Los primeros dos días hicimos trabajo de reconocimiento mientras llegaba el barco con los refugios," comenta Santiago Treviño, líder de la misión, "después, junto con Hope International, pusimos shelters a donde más lo necesitaban."
Algunas casas estaban de pie pero no tenían techo. Los olores y la podredumbre causada por la intemperie eran impresionantes. El huracán se llevó todo: lo poco que tenía la gente pobre se perdió. Vi mucho dolor pero también mucha valentía. Independientemente de todo, lo que más me impresionó fue escuchar a la gente decir "Thank God for life." 

Santiago Treviño, Líder de misión
El equipo trabajó en las zonas de Marsh Harbour, Sandy Point, Treasure Cay, The Intersection y The Farm, a fin de realizar la entrega de ayuda humanitaria con base en las necesidades. En total se colocaron 50 refugios temporales equipados con 5 catres, 2 ventiladores chicos (que pueden ser activados conectándolos a un puerto usb), 2 lámparas solares ( con un puerto usb), una estufa para camping, ropa y zapatos. 250 personas fueron beneficiados.
https://cadena.ngo/wp-content/uploads/2019/11/1E64E19B-B405-4E5B-B17D-B733717BC85A.jpeg
1536
2048
Abigail
https://static.cadena.ngo/images/logo-cadena.png
Abigail
2019-11-13 12:20:00
2019-12-19 11:40:43
Así fue: tercera misión a las Bahamas.